The current COVID 19 pandemic has shaken up our lives and obliged us to face a new reality.
Our daily life suddenly changed, probably permanently, while fear, worry and insecurity prevail.
Furthermore, the necessity for personal responsibility and action has been stressed more than ever.
It is our duty to show responsibility and respect for our fellow human beings by following the recommendations of the WHO, of the Greek Scientific Community and Government.

Under the present situation, aiming at strengthening our guests' trust and ensuring them for the sanitary safety of our hotel, we adopted the Health protocols of our Ministry, have taken action and proceeded to changes concerning our operations.
Moreover, we have issued the relevant guidelines for all the services we provide.

We have created a coordinating committee and assigned responsibilities, as well as an action plan for the prevention of the appearance and for the effective handling of possible suspicious cases, in order to eliminate the danger of the virus being spread to our guests and staff, as it is recommended by EODY.

Our staff is under training in relevance to the abidance of the health protocols and strictly complies with the basic protective measures against COVID 19 (hand washing, social distancing, face mask). We are also under the process of acquiring the Certificate of Sanitary Safety.

To this effort we ask for your understanding, involvement and cooperation in order to adjust to the new reality.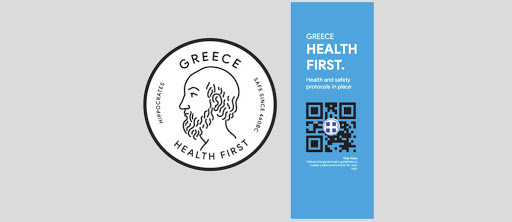 RECEPTION - CHECK-IN - CHECK OUT
Our warm smile cannot be hidden so, at the reception area, we have installed sneeze guards as well as all the proper floor markings for the appropriate social distancing we have to keep.

Option of web registration is provided and highly suggested at www.portariahotel.gr/checkin Check out must take place until 11:00 at the latest & check in must be at 15:00 and onwards. We urge you to use the service of receiving your invoice, upon check out, via email and strongly recommend payments to be done by debit or credit cards.

During winter period for weekdays (exp. holidays etc) reception desk and main entrance of the hotel will operate from 07.00am to 23.00pm and night shift will be not available till further notice. Please inform us in advance if your check in time will be after 23.00pm. Elevators, must be used by one guest at a time, or guests sharing the same room. Still, we encourage you to use the stairs.
Every additional not basic equipment like magazines, laundry bags, bathrobes will be removed.

We use ECOLAB cleaning and disinfectant products to all the areas of the hotel as well as chlorine which is now allowed for hotel use.
Each room has its own material fabrics. All the cloth elements are cleaned with steam cleaner at very high temperature > 70° C and with ECOLAB disinfectants.

The linen and towels of the room are washed by a professional collaborating dry cleaning, following all the safety protocols, at very high temperature.

Our Housekeeping staff is equipped by all the protective accessories.

We served breakfast either on buffet style or set menu on the table depend on occupancy. Our restaurant will be available from 14.00-22.30 with ala carte menu following all the safety protocols (disinfectant at entrance, distances, staff with masks and intesive cleaning. Our Kitchen is following all legal procedures by GREEK FOOD AUTHORITY.
Our SPA services are provided by appointment(SAUNA,STEAM BATH and treatments) following all the sanitary protocols. The jaccuzi and hydrotherapy pool will not be in operation according to Greek Law.